May 10,2017

Andrew L. Rosen, MD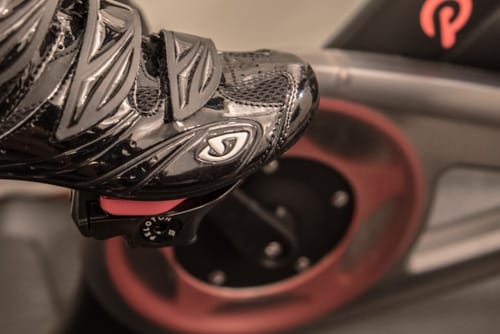 As a runner myself, I've tried numerous forms of alternative workouts without much success. I've never been able to be excited by indoor gym workouts such as elliptical, rowing or simple stationary biking. Outdoor biking can be a great alternative as a runner accustomed to being outside but the workouts are much more time consuming, require costly equipment and have increased risk of injury, sometimes serious.

I had tried spin classes many years ago and found them equally unappealing with teachers emphasizing simple hill climbing and loud music. Recently that seems to be changing dramatically. Modern spin classes can be much more attractive to runners with new stationary bicycles that provide constant information 'metrics' of speed and resistance that feel very similar to the information we are accustomed to seeing on our GPS watches as we train and race outdoors. This non-stop information drastically changes the stationary biking experience and allows riders to know how hard they are pushing and how much work they accomplished in the workout.

The addition of this information also allows classes that feel very similar to running speedwork with high intensity short intervals, longer tempo intervals and repetitive activities that mimic running 'fartlek' workouts. New spin studios such as Peloton and Flywheel take it a step further and create a 'leaderboard' that shows riders where they are placing in a workout and allow every 'ride' to be a race that allows participants to virtually chase each other and push a hard workout.

Having an indoor activity can also substitute for a running workout for days of rain, snow or heat that would make running undesirable or unsafe. The Peloton company makes the workout even easier by allowing the same enhanced workout experience without leaving your home.

I know it is seems unusual for a running doctor to tell runners to try something different, but adding stationary biking to a weekly workout program allows runners to improve their overall conditioning with stress to different muscle groups than running.

Getting experience with a good cross training workout can also be valuable when an injury forces time off from running. Many of us force ourselves to run through injuries because we don't have another workout activity to easily transition to. Many injuries will resolve quickly with a short period of relative rest but will worsen if the running continues.

Trying out the new generation of spin classes may help many runners to keep motivated, continue running stronger, and avoid injuries.


April 15,2017

Andrew L. Rosen, MD

Many runners will experience some discomfort in their hips if they push their mileage and intensity during training. Most pain in the legs for runners is muscular in nature and is often the result of weakness and tightness of the supporting muscles. Classified as 'tendonitis', these conditions will often improve with simple treatments such as rest, anti-inflammatories, stretching and strengthening. Unfortunately, not all pain in runners is benign in nature. The excess forces on the bones of the legs in runners can create stress fractures in any part of the leg, from the pelvis to the foot. Most stress fractures of the legs are painful but also benign and heal uneventfully with a period of rest.


The hip is a unique joint

The hip is a special area because of the angle of the hip bone (femur) that receives substantially increased force with weight bearing compared to any other part of the leg. This bone has a potential to fully break (fracture) which can be catastrophic. A full fracture of the hip requires surgical treatment with insertion of large metal screws. The long-term consequence of these fractures can be even worse with bone necrosis which could even require a hip replacement.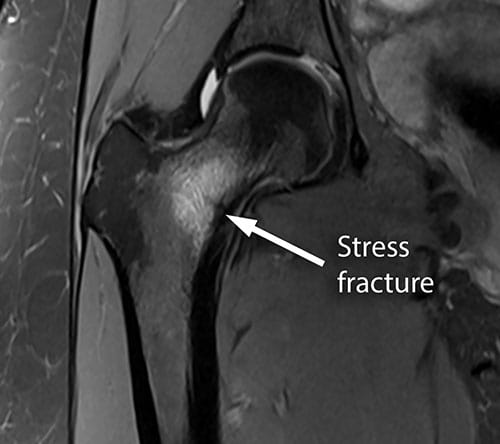 How to diagnosis a stress fracture

Because of the unique severity of stress fractures of the hip, sports medicine doctors are often much more aggressive with diagnosing hip conditions with an MRI scan which is usually able to determine if a fracture is present. The MRI also gives us information on how severe the fracture is and helps estimate the risk of complete fracture.


Signs of a possible stress fracture of the hip

• Pain located in the groin or front of the top thigh area
• Pain with contact of the leg on the ground
• Pain that worsens during a run


Should a runner get their hip checked?

The hip is one area that demands medical attention for pain that does not improve quickly. Not every ache in the hip requires an immediate trip to the orthopaedic surgeon, however pain that doesn't improve with basic rest should be considered carefully.

It is especially important to be certain that a stress fracture isn't present if soreness in the hip is present prior to a long race. Every year, marathon medical services are called to assist a runner who falls down when a full fracture occurs during a race. This is an avoidable catastrophe that informed runners should all be able to avoid.

March 18,2017

Andrew L. Rosen, MD
As the winter fades, many of us see the warmer days and longer daylight hours as a driving force to get back in shape. Although many of us still enjoy running in cold conditions year-round, it's very hard not to get excited by the chance to start shedding layers and run outside.


Unfortunately, spring is also a very common time for running injuries to occur. Increased weakly mileage, increasing speed and frequency of runs can be a recipe for trouble if the legs are not ready for it. Many of us sign up for spring races many months in advance, putting pressure on ourselves to get back into shape to perform. Even without a specific race goal driving our training, it is important to plan a spring running program carefully.


Avoiding injuries

The most important way to stay out of the orthopaedic surgeon's office is to carefully control a training program. Time spent making a careful plan of increasing workouts can be very effective in allowing a runner's legs to acclimate and stay below the threshold for injuries. Key components include:
• Slow increases in weekly mileage
• Avoiding frequent back-to-back daily runs initially, allow for recovery time. Cross-train on recovery days to vary the forces across the legs.
• Working in speed and hill intervals slowly. Don't try and hit the same high-intensity splits you did in the fall when in peak shape


Other tips

• Replace worn out shoes with new ones to decrease stress across the legs
• Make sure the rest of the body is strong – core and quadriceps strengthening exercises are vital to reduce stress and maintain balance during running.
• Don't forget to stretch – hamstrings and calves especially need to be loosened up before and after runs. Simple stretches or devices like foam rollers should not be neglected as a runner increases activities.